Click photo for link to funeral
It's disgraceful, that's what this is. Billy Graham loved the UK, he held many crusades here - from the 1950s at Haringey, 1960s at Earls Court, and a tour of the nation in 1985. In Sheffield, he ministered to 327,000 people at Bramall Lane Football Stadium. Sheffield United Football Club doesn't pull in such crowds as that. Despite this, as far as I am aware, nobody from this country was at the funeral, no political leaders nor ministerial leaders. Nobody.
It gets worse: All the news broadcasts, both national and local and ALL radio phone-in shows are covering nothing other than SNOW SNOW SNOW. I'm sick of hearing about bloody SNOW. Anybody would think we'd never had snow before. At any given time in the 24 hours of each day, it would be easy to find somebody in the media talking about snow.
Nowhere was it mentioned that Billy Graham's funeral was today. It's disgusting, and yet the residents of this country see themselves fit to denigrate Donald Trump (you do, don't you?), to the point of discouraging a state visit from him. And some prat yesterday told me I should be proud of being British. Don't make me laugh!
Recanting the Truth - political correctness
You can be sure of one thing - THIS blog won't be deleted.
Why do people who proclaim the truth have to keep recanting their comments and apologising for them? It's true what he said - if people cannot provide for their kids, then somebody else has to, that somebody else is probably someone who has their own kids to provide for.
Recently, Tim Farron has resigned his position and retracted his views on homosexual sex because of public outcry. A few years ago, the Commissioner of the Metropolitan Police announced that, according to the figures in front of him, that black people committed far more crimes per ce, than whites. He had to withdraw that statement because of the media backlash. It seems to me that when someone is in public office, there is a limited amount of politically correct statements one can make. Don't even consider the truth, you'll get sent to hell for that. I don't trust a society from which the truth is banished.
Now, the story of the now spineless yellow belly MP who
hasn't the guts to stick to his guns:
A Tory MP recently appointed to a prominent party position has apologised after it emerged he had written a blog post suggesting benefit-claimants should have vasectomies.
Ben Bradley, who was promoted by the Prime Minister this month to become Conservative vice chairman for youth, wrote the UK could be "drowning in a vast sea of unemployed wasters" without a cap on welfare payments.

In a 2012 post on his personal blog, titled consbradders32 and uncovered by Buzzfeed News on Tuesday, the Mansfield MP wrote: "Sorry but how many children you have is a choice; if you can't afford them, stop having them! Vasectomies are free."
He added: "Families who have never worked a day in their lives having four or five kids and the rest of us having one or two means it's not long before we're drowning in a vast sea of unemployed wasters that we pay to keep!"
The blog has since been deleted.
Apologising for the posts, Mr Bradley said: "My time in politics has allowed me to mature and I now realise that this language is not appropriate."
Cat Smith, Labour's shadow minister for youth affairs, said: "These repulsive comments expose the Tories' disgraceful attitude to unemployed people.
A message I posted on my Facebook page.
Response from Andy Kershaw:
-- Claptrap Bill, but respect you for believing it. When people say to me You must respect my religion, I say I respect NO religion for ALL religion was man made as a means of social control and the accumulation of wealth & power. However, I would fight to the death for your right to practice your religion and for freedom of speech and religion ! X
My first response:
I don't think religion is mentioned Andy. I have no respect for or affiliation with any religion. Religions are sets of rules and regulations which vary from one to another. It's counterproductive. I prefer to recognise a relationship with the one and only God, nothing else. I know it's difficult to understand, but as long as I understand it, that's all that matters to me. I've been to two services in Sheffield Cathedral this morning, yet if anyone were to ask me what is my religion, I'd say, "None."
My second response:
I'd just like to expand on this a little, because there are some misconceptions around. Many people who are on the outside of many things form their own uninformed impressions of what occurs on the inside, without delving into it. Believe me, the worst offenders are indeed Christians. There is a universal belief that if someone goes to church, believes in God and reads the Bible, that person is religious. Not so. Becoming religious is tantamount to saying, "Ah, I want to get to know God, now which is the best club (religion) for me to join?" You do not have to join a religion, doing so is tantamount to deciding whose rules and regulations you wish to adhere to. This stereotyping goes on in other areas too. How many reading this will instantly think of sex and pornography if one were to mention naturism or nudist colonies? OK, put your hands down, that's ALL of you. Let's go on to beer drinking. This is a Christian one, (well, so was the nudity for that matter), how many, at the mention of the enjoyment of real ale and beer festivals will instantly think of drunken debauchery? All of you again. It's not your fault. Narrow-mindedness and Christianity are at one. None Christians will think of a certain word the very instant they hear of church-going. That word is 'hypocrite'. "They're all hypocrites in churches". So you see, whether you're a Christian or not, there's guilt of this stereotyping and labeling on all sides.
My very last God posting on Facebook:
This is the end of this stuff for me. A comment placed on the last one I posted proved incontrovertibly that what I have been saying for a long time is correct.
When we are constantly being told that it is our responsibility as Christians (I'm not one of those by the way) to spread the Word of God and the Good News, my argument is that doing so would mean people would keep their distance from us. They would say, "Oi, watch it, Bill's here again, he'll start preaching, let's go."
The reasons are that life in the UK for most people is too good, they have no need for a Saviour. They have all they want in materialism. Things do often change though. Most people have never hit rock bottom yet. Some folks who have become prisoners of drugs, have found that they have lost everything, their homes, their jobs, their families, their friends and all hope for a future. Day after day, they live on the streets. Only churches have any time for them. Churches feed them and provide places for their personal care. The Salvation Army and YMCA have even provided roofs over their heads. Churches run foodbanks for the destitute. Such people do turn their lives over to God. I know, I've witnessed it.
If a 'non believer' were to be told that their 3-year-old has neuroblastoma, and that child's entire future is one of unspeakable pain and suffering until she/he inevitably dies, and the father, who sees his responsibility as being the one who should be able to make such things go away, is totally helpless, he will realise that if there is a modicum of hope, it can only come from God. His back is to the wall! But most people are not there yet. Most people's greatest problem is their credit card bill, so until that changes for the worst, they'll continue to say that they are non-believers and even be proud of the fact. Oh, I know, some who might be reading this (especially men) will say, "No way, nothing can get me to accept that there's a God," but as you read this, you're still at a stage where it's easy to say that. How things can change when possibilities become realities.
It explains why the vast majority of the population of poor countries in Africa and other deprived nations, do believe in God.
They don't have iPads, cars, houses, credit cards, high salaries and comfortable lifestyles, fridges and freezers full of food, running water and toilets and electricity supplies, yet they can be seen to be happier than our part of the world. Their children have no luxuries, yet if you were to go around their homesteads distributing Manchester United tee shirts to kids, you'd see beaming smiles on their faces, the likes of which you'll never see in Britain. In Britain, children will complain because a friend has just been given the latest phone while theirs is six months old.
That's it now, that's me done. No more God stuff from me on Facebook.
Final comment: Bill Ross:
Funny y'know. I remember someone once told me that he used to be a born-again Christian, but he'd lost his faith now. That's clap trap. You lose your wallet, you lose your keys, you even lose your mind, but you cannot lose your faith. You choose to discard it.
Andy Kershaw
Yes that's perfectly true and I value the people and places I went to but like all ideologies it was flawed
John Cundy retires from BBC Look North
On the television broadcast this evening, John said the most disturbing story he ever covered was that of mentally retarded Stefan Kiszco being wrongly convicted for the murder of a little girl. John said that the police knew he hadn't done it, yet Kiszco did 16 years in prison for it. His defence lawyer must have known also that he didn't do it.
I've always said that lawyers have absolutely no interest in the case they are defending. Their only interest is their fee which grows and grows if a defendant pleads not guilty.
It explains why that young bloke who is in the news today, who planted a bomb on a tube train at Palmers Green station, is pleading not guilty. No doubt, his lawyer has advised him to, so a long court case can ensue and the lawyer gets rich. I don't know how some lawyers and CID officers sleep at night, I really don't.
The Fitting Up Of Stefan Kiszco -
deemed the worst miscarriage of justice in Britain's history.
The murder of Lesley Molseed,
an 11-year-old British girl, occurred on 5 October 1975 in West Yorkshire, England. Stefan Kiszko, an intellectually disabled man who lived near Molseed in Greater Manchester, was wrongly convicted of sexual assaulting and murdering her, and served 16 years in prison before the conviction was overturned. Kiszko's mental and physical condition deteriorated while he was in prison, and he died 18 months after his release in 1992, before he could collect money owed to him for his suffering. His ordeal was described by one British MP as "the worst miscarriage of justice of all time."[1] Evidence that Kiszko could not have done the crime was suppressed by three members of the investigation team, who were initially arrested in 1993 before charges were dropped.
In 2006, a DNA match led to the arrest of Ronald Castree for Molseed's murder. He was convicted the following year and sentenced to life in prison.
Stefan Kiszko and his mother Charlotte,
This from the Manchester Evening News:
"I am in prison for a crime I have not committed. I am missing my mother very much....

I hope there will be a happy ending."

THOSE were the words of a gentle giant with a childlike mind in a touching letter to a family friend.

But there was to be no happy ending for social misfit Stefan Ivan Kiszko and his devoted mother, who fought tooth and nail to free her son from prison.

Jail is a daunting place for anyone convicted of murdering a child in a sexual frenzy and for Stefan Kiszko it was 16 years of unimaginable mental torture.

When 23-year-old Stefan joined the hard-cases inside Armley Jail in Leeds on Christmas Eve, 1975, the lumbering knock-kneed tax clerk was nicknamed "Oliver Laurel" because he had the girth of Oliver Hardy and the perplexed air of Olly's comedy sidekick Stan Laurel.

He was there on remand having been taken from the spotless semi-detached home he shared with his mother, Charlotte, in Rochdale. When he was convicted of Lesley's murder the following summer, he naively believed he would be proved innocent and allowed home.

Instead, he was to become the victim of one of the most shameful and prolonged miscarriages of justice in British judicial history.

He was told he would only be eligible for parole if he finally admitted to the murder of Lesley Molseed. Otherwise, he would be behind bars for the rest of his life.

But, despite the daily fear of retribution from inmates, this mild mannered `mother's boy' refused to confess to the murder. It was simple. To confess would have been a lie and he had always been taught by the mother he worshipped to tell the truth.

So how could this innocent man have been locked up for a murder that it had been impossible for him to commit? Could this physical wreck of a man have really kidnapped a girl off the street, driven her to lonely moorland, carried her up a steep hillside and then stabbed her 12 times before performing a sex act over her body?

Health problems
And it was nature's hand that dealt Stefan a so-cruel fate that no-one could ever deserve.

At 23, Stefan had never had a sexual thought. Two months before Lesley's murder, he was sent to the doctor by his mother because he was chronically tired. He was anaemic and also diagnosed hypogonadal - meaning his testes had never descended and he was sexually incapable.

The doctor prescribed injections of the hormone testosterone, which was to convince police that they had the right man when he was arrested four months later.

The jabs had made Stefan sexually aroused and he secretly bought girlie magazines, which police found in his car, along with sweets that could have been used to entice a child.

He also had apparently "flashed" at a teenage girl and came to the attention of police who reckoned the testosterone jabs had turned Stefan into a murderous sex fiend.

A terrified Kiszko made a police station written confession to Lesley's murder with no solicitor present. When he was eventually allowed a lawyer, he immediately retracted his "confession" but was still charged and put on trial in July 1976 at Leeds.

At court, a professor was there for the defence, preparing to say that the prescribed testosterone injections could not have turned such a man into a killer. But the defence chose not to call his evidence.

The most devastating injustice of all was vital evidence that the police never put before the court.

There was no DNA technology available in 1975, but police still had samples taken from Lesley's clothing examined and which showed the killer had a sperm count and could father a child. A police doctor who also examined Kiszko, saw that he was sexually immature and sent a sample for examination that showed Stefan had a zero sperm count.

The crucial evidence was never put before the court and when police reinvestigated the case in the 1990s, they found that Kiszko's samples had mysteriously vanished.

But they found old paperwork that confirmed the police scientist who examined the samples had found Kiszko was totally infertile.

When police finally re-tested Kiszko 16 years later in jail, he still had a zero count. Testosterone made him sexually aroused, but could not have made him fertile.

Evidence
I shall never forget the calls made to me at the Manchester Evening News back in the 1980s from a feisty woman who, in an Eastern European accent, tried to convince me that her son was innocent.

I checked the court story. There had been a confession and some forensic evidence matching carpet fibres from Kiszko's car with Lesley's clothing.

I was always patient and kind, but I never believed her. Then this tireless little fighter found a solicitor called Campbell Malone, who did believe her and eventually convinced police to reopen the case.

Malone turned out to be Charlotte's hero - and rightly so.

When Stefan went home in 1992, his bedroom was just as he left it, his pyjamas on the bed and his beloved and immaculate Hillman Avenger still in the garage.

He died a year later, two days before Christmas, after collapsing at home from a heart condition. Charlotte rang me that day and told me the news.

She had long since forgiven me for my disbelief at her claims of her son's innocence and asked me to go to the house.

She made me tea and gave me home-made cakes, sometimes weeping and then cursing the police. She died around six months later, a broken woman.

In that same poignant letter from jail, a few weeks after his arrest, Stefan Kiszko also wrote: "I hope you had a nice Christmas. My mother spent hers crying her eyes out. We have not had such a nice time in the past, but things will get better."
FromWikipedia:
Lesley Molseed was a frail child from Rochdale, Greater Manchester. Small for her age, she had been born with a congenital cardiac condition. She was known as "Lel" to her brother and two sisters. Early in the Sunday afternoon of 5 October 1975, she had volunteered to go from her home at 11 Delamere Road to the local shop to buy bread. She was last seen in Stiups Lane, but she never returned. A search around the town and the adjacent M62 area was immediately begun. Lesley's body was found three days later lying on a natural turf shelf 30 ft above a remote layby on the trans-Pennine A672 near Rishworth Moor in West Yorkshire. She had been stabbed a dozen times in the upper shoulder and back. Some of the wounds were very deep and one had penetrated her heart. None of her clothing was disturbed but her body had been posed and the killer had ejaculated on her underwear.
At the time of the hunt, four teenage girls, Maxine Buckley, Catherine Burke, Debbie Brown and Pamela Hind, claimed that Stefan Kiszko had indecently exposed himself to them the day before the murder. One of them also said he had exposed himself to her a month after the murder, on Bonfire Night, and that he had been stalking her for some time previous to that.
Stefan Kiszko (/ˈkiːʃkoʊ/ KEESH-koh; 24 March 1952 – 23 December 1993) was then a 23-year-old local tax clerk of Eastern European descent. His father, Ivan (spelled Iwan and also called John), had emigrated from Soviet Ukraine and his mother, Charlotte (née Slavič), from Yugoslavia (modern-day Slovenia) after the Second World War to work in the cotton mills of Rochdale. West Yorkshire Police quickly formed the view that Kiszko fitted their profile of the sort of person likely to have killed Lesley Molseed even though he had never been in trouble with the law and had no social life beyond his mother and aunt. His father had died of a heart attack in the street, at Kiszko's feet, on 29 September 1970. Evaluation showed Kiszko had a mental and emotional age of just 12. Kiszko also had an unusual hobby of writing down registration numbers of cars that annoyed him, which supported police suspicions. The police now pursued evidence which might incriminate him, and ignored other leads that might have taken them in other directions.
Acting upon the teenage girls' information and their suspicions of Kiszko's idiosyncratic lifestyle—and having allegedly found girlie magazines and a bag of sweets in his car—the police arrested him on 21 December 1975. During questioning, the interviewing detectives seized upon every apparent inconsistency between his varying accounts of the relevant days as further demonstration of his likely guilt. Kiszko confessed to the crime after three days of intensive questioning: he believed that by doing so he would be allowed to go home, and that the ensuing investigations would prove him innocent and his confession false. Prior to the Police and Criminal Evidence Act of 1984, suspects did not have the right to have a solicitor present during interviews, and the police did not ask Kiszko if he wanted one. His request to have his mother present while he was being questioned was refused and, crucially, the police did not caution him until long after they had decided he was the prime – indeed, the only – suspect.
After admitting to the murder to police, Kiszko was charged with Molseed's murder on Christmas Eve 1975. When he entered Armley Gaol following his being charged, he was nicknamed "Oliver Laurel" because he had the girth of Oliver Hardy and the perplexed air of Oliver's comedy sidekick Stan Laurel. Later, in the presence of a solicitor, Kiszko retracted his confession.
Kiszko was remanded until his murder trial, which began on 7 July 1976 under Sir Hugh Park at Leeds Crown Court (then at Leeds Town Hall). He was defended by David Waddington QC, who later became Home Secretary. The prosecuting QC, Peter Taylor, became Lord Chief Justice the day after Kiszko was cleared of the murder in 1992. Taylor was most noted for his reports into the Hillsborough Disaster at the Sheffield Wednesday FC football stadium at Hillsborough, Sheffield.
Kiszko's defence team led by Waddington made significant mistakes. Firstly, they did not seek an adjournment when the Crown delivered thousands of pages of additional unused material on the first morning of the trial.
Then there was the inconsistent defence of diminished responsibility which Kiszko never authorised, on the grounds that the testosterone he was receiving for his hypogonadism might have made him behave unusually. Kiszko's endocrinologist strongly disagreed with this theory, and if called to testify would have said that his treatment could not have caused him to act in such a way that would make him carry out a murder. He was never called.
The manslaughter claim undermined Kiszko's claims that he was totally innocent and destroyed his alibis (a defence known in legal parlance as 'riding two horses'). In fact, his innocence could have been demonstrated at the trial. The pathologist who examined Molseed's clothes found traces of sperm, whereas the sample taken from Kiszko by the police contained no sperm. There was medical evidence that Kiszko had broken his ankle some months before the murder and, in view of that and his being overweight, he would have found it difficult to scale the slope to the murder spot. The sperm findings were suppressed by the police and never disclosed to the defence team or the jury; neither was the medical evidence of his broken ankle disclosed to the court.
Kiszko gave evidence that in July 1975 he had become ill and had been admitted to Birch Hill Hospital, where he was given a blood transfusion. In August he was transferred to a Manchester hospital and diagnosed as being anaemic and as having a hormone deficiency. He agreed to injections to rectify the latter problem and was discharged in September 1975. He said correctly that he had never met Molseed and therefore could not have murdered her, and he claimed he was with his aunt tending to his father's grave in Halifax at the time of the murder before visiting a garden centre and then going home. When asked why he had confessed, Kiszko replied, "I started to tell these lies and they seemed to please them and the pressure was off as far as I was concerned. I thought if I admitted what I did to the police they would check out what I had said, find it untrue and would then let me go".
His conviction was secured by a 10–2 majority verdict on 21 July 1976 at Leeds Crown Court after five hours and 35 minutes' deliberation. He was given a life sentence for committing Molseed's murder. The judge praised the three girls who had made the exposure claims, Buckley in particular, for their "bravery and honesty" in giving evidence in court and their "sharp observations". Pamela Hind's evidence was read out in court. Park said that Buckley's "[s]harp eyes set this train of inquiry into motion". He also praised the police officers involved in the case "for their great skill in bringing to justice the person responsible for this dreadful crime and their expertise in sifting through masses of material", adding, "I would like all the officers responsible for the result to be specially commended and these observations conveyed to the Chief Constable". DS John Akeroyd and DSupt Holland were singled out for praise.
Sheila Buckley, whose daughter Maxine played a major part in securing Kiszko's conviction, criticised the police for not arresting him earlier and told the Manchester Evening News that ".. children are a lot safer now this monster has been put away".[8] She also demanded Kiszko's hanging. Even Albert Wright, Kiszko's solicitor, thought that his client was guilty but that it was a case of diminished responsibility and that therefore he should not have been convicted outright of murder.
From 1979 onwards, Kiszko developed schizophrenia whilst in prison and began to suffer from delusions, one being that he was the victim of a plot to incarcerate an innocent tax-office employee so the effects of imprisonment would be tested on him. Over the next decade any of Kiszko's claims of innocence were labelled as symptoms of his schizophrenic delusions, or attributed to his being in a state of denial. One forensic psychiatrist made a note of Kiszko suffering from "delusions of innocence". In January 1980 he said that coded messages on BBC Radio Two's Jimmy Young Show were being sent to him. In 1982 he claimed that his parents had a tape recorder hidden in the kitchen and made him sing after turning it on, later selling the songs to Barry Manilow to make money out of his talent.
On 11 November 1981, Kiszko was transferred to Gloucester Prison and in April 1983 was told that he would only ever be eligible for parole if he admitted to having carried out the murder. If he continued to deny being a child killer, then he would spend the rest of his natural life behind bars, but this made no difference to Kiszko's stance. Thirteen months later, while still denying having carried out the murder, he was moved to Bristol Prison. Such was his mental deterioration that a month later, in June 1984, it was recommended by a forensic psychiatrist that he should be moved to either Broadmoor, Park Lane/Moss Side Hospital (later Ashworth Hospital, Liverpool) or Rampton, but nothing came of it. Six months later, in December 1984, Kiszko was returned to Wakefield Prison.
In August 1987 he was transferred again from Wakefield to Grendon Underwood Prison, where, in 1988, the Governor tried to persuade Kiszko to enrol on a sex offenders' treatment programme, in which he would have had to admit having committed the rape and murder. Having done that, he would then discuss what motivated him. Kiszko refused to take part and repeatedly and persistently refused to "address his offending behaviour" on the grounds that he had done nothing that needed addressing. He was left in Grendon Underwood until May 1989, when he was moved back to Wakefield Prison. In July 1990 he said he was striking out a ghost who was trying to sexually abuse him, and finally, on 15 March 1991, Kiszko was transferred to Ashworth Hospital, under Section 47 of the Mental Health Act 1983, after six months of delay, on the grounds of his deteriorating mental health.
Kiszko's mother was ignored and stonewalled both by politicians, including her local MP Cyril Smith and Prime Ministers James Callaghan (1976 to 1979) and Margaret Thatcher (from 1979), and by the legal system. In 1984 she contacted JUSTICE, the UK human rights organisation which at the time investigated many miscarriages of justice. Three years later, she was put in touch with solicitor Campbell Malone, who agreed to take a look at the case when it seemed almost certain that Kiszko would never be released.
Malone consulted Philip Clegg, who had been Waddington's junior at the July 1976 trial. Clegg had expressed his own doubts about the confession and conviction at the time, and over the next two years, Clegg and Malone prepared a petition to the Home Secretary. The draft was finally ready to be sent on 26 October 1989. On the same day, by coincidence, a new Home Secretary was announced: David Waddington. Sixteen months passed before a police investigation into the conduct of the original trial began. Waddington resigned as Home Secretary in November 1990 to take up a peerage and to serve as Leader of the House of Lords. He was replaced by Kenneth Baker.
In February 1991 Campbell Malone, with the help of a private detective named Peter Jackson, finally urged the Home Office to reopen the case, which was then referred back to West Yorkshire Police. Detective Superintendent Trevor Wilkinson was assigned to the job. He immediately found several glaring errors. Kiszko's innocence was demonstrated conclusively through medical evidence; he had male hypogonadism, which rendered him infertile, contradicting forensic evidence obtained at the time of the murder. In 1975 his testes had measured 4 to 5 mm, whereas the average adult testicular size was 15 to 20 mm. During his research, Jackson found someone who confirmed that Kiszko had been seen with his aunt tending his father's grave on the day the murder took place. They said they could not understand why they had not been called to give evidence at the trial. Someone else said that Kiszko had been in a shop around the time of the murder.
Also that month, the four girls involved in the court trial admitted that the evidence they had given which had led to Kiszko's arrest and conviction was false, and that they had lied for "a laugh" and because "at the time it was funny". Burke said she wished she had not said anything but refused to apologise, saying she did not think it would go as far as it did. Buckley said it was not Kiszko who had exposed himself to her and that he had not been stalking them, but they had seen a taxi driver (not Ronald Castree) urinating behind a bush on the day of Molseed's murder. She also refused to apologise. Brown refused to make a statement. Hind was the most remorseful of the four, saying that what they did was "foolish but we were young" and that, had she appeared in court, she would have told the truth about Kiszko, unlike her friends, who all had committed perjury. She herself did not think Kiszko would be convicted.
In August 1991, the new findings in Kiszko's case were referred to Kenneth Baker, who immediately passed them on to the Court of Appeal. On 20 December 1991, Kiszko was moved from Ashworth to Prestwich Hospital.

Ten months before his parole hearing, on 17 February 1992, the judicial investigation into Kiszko's conviction began. It was heard by three judges, Lord Lane, Mr Justice Rose and Mr Justice Potts. Present at the hearing were Franz Muller QC and William Boyce for the Crown, who were there to argue that Kiszko was guilty of murder and therefore must remain in prison custody for at least another ten months, and Stephen Sedley QC and Jim Gregory, there to state that Kiszko was innocent. After hearing the new evidence presented by Sedley and Gregory, Muller and Boyce did not put up any contrary argument and immediately accepted its validity.Although Kiszko had been told in 1983 that he would only be eligible for parole if he admitted having murdered Lesley Molseed, the Home Office apparently changed its view. In February 1990, the Home Office privately disclosed that Kiszko's first parole hearing would take place in December 1992, by which time he would have served 17 years in custody. However, he would only be released if he admitted to having murdered Lesley Molseed and if he could convince the Parole Board that he would not be a danger to children or the public.
Also after hearing the new evidence, Lord Chief Justice Lane said: "It has been shown that this man cannot produce sperm. This man cannot have been the person responsible for ejaculating over the girl's knickers and skirt, and consequently cannot have been the murderer." Kiszko was cleared and Lane ordered his immediate release from custody.
Anthony Beaumont-Dark, a Conservative MP said, "This must be the worst miscarriage of justice of all time" and, like many others, demanded a full, independent and wide-ranging inquiry into the conviction.
The 1976 trial judge Sir Hugh Park, who had praised the police and the 13-year-old girls at the original trial for bringing Kiszko to justice, apologised for what had happened to Kiszko but said he was not sorry for how he had handled the court case.
The Molseed family, who were convinced of Kiszko's guilt up to the very moment of him being cleared, also publicly apologised for the things they had said after his conviction such as demanding that he be hanged in public. (In 1976 Lesley Molseed's father, Fred Anderson, had hurled a volley of angry verbal abuse at Kiszko's mother Charlotte outside the court after her son was convicted. Anderson had also told the media that he would be outside the prison gates waiting for Kiszko should he ever be released.)
In February 1992, Kiszko's mother said that it was David Waddington who ought to be "strung up" for his pro-capital punishment views and for the way he had handled her son's defence at the 1976 trial.
David Waddington, Sheila Buckley, Maxine Buckley, Hind, Brown and Burke, Ronald Outteridge and prosecution barrister Peter Taylor all offered no apology, nor expressed any regret for what had happened. All refused to comment when Kiszko was released. Even the West Yorkshire police, while accepting and admitting they had been wrong, tried to justify the position they had taken in 1975. All Waddington would say was that if this evidence had been available in July 1976, the trial would have taken a very different course.
Kiszko needed further psychiatric treatment and continued to remain in Prestwich hospital though he was allowed home at weekends and occasionally during the week. He was finally allowed home fully in May 1992, three months after being cleared, but the years of incarceration for something he had not done had both mentally and emotionally destroyed him. Kiszko became a virtual recluse and showed little interest in anything or anyone. He drove his car again on short journeys, but other people's apologies for what had happened, encouragement and support seemed to frighten him on the rare occasions he ventured out. As his mental health had deteriorated over the years, so now did his physical health; in October 1993 he was diagnosed as suffering from angina.
Kiszko died of a massive heart attack, in Rochdale, Greater Manchester, on 23 December 1993, at home, 18 years and two days after he made the confession that helped lead to wrongful conviction for murder. He was 41. Lesley Molseed's sister was one of those who attended his funeral two weeks later on 5 January 1994. His mother, Charlotte Hedwig Kiszko, died four months later, in Rochdale, on 3 May 1994, at the age of 70. The two are buried together in Rochdale Cemetery.
After release from prison Kiszko had been told he would receive £500,000 in compensation for the years spent in prison. He had received an interim payment, but neither he nor his mother ever received the full amount they were awarded, since both died before Kiszko was due to receive it.
A TV film adaptation of Kiszko's story was made in 1998, A Life for a Life, directed by Stephen Whittaker, featuring Tony Maudsley as Kiszko and Olympia Dukakis as his mother Charlotte. A documentary about the case, Real Crime: The 30 Year Secret, was broadcast by ITV1 on 29 September 2008.
In the Channel 4 television series Red Riding, the character of Michael Myshkin is based on Kiszko, being a simple-minded immigrant who is coerced into confessing the rape and murder of an 11-year-old girl before eventually being exonerated.
The satirical animated series Monkey Dust featured Ivan Dobsky, a character similar to Kiszko, being a simple-minded East European convicted of murder after being tortured by police.
In 1994 the surviving senior officer in charge of the original investigation, Detective Superintendent Dick Holland, and the retired forensic scientist who had worked on the case, Ronald Outteridge, were formally charged with "doing acts tending to pervert the course of justice" by allegedly suppressing evidence in Kiszko's favour, namely the results of scientific tests on semen taken from the victim's body and from the accused.
On May Day 1995 the case was challenged by defence barristers, arguing that the case was an abuse of process and that charges should be stayed as the passage of time had made a fair trial impossible. The presiding magistrate agreed and as the case was never presented before a jury, the law regards the accused as presumed innocent.
Holland, who came to public prominence as a senior officer on the flawed investigation into the murders committed by the Yorkshire Ripper, retired in 1988, at a time when he viewed the conviction of both Kiszko and of Judith Ward (in May 1992 her conviction was also viewed as unsafe by the High Court) as being among his finest hours during his 35 years in the police force. However, Holland was demoted during the Yorkshire Ripper inquiry four years after Kiszko's conviction. He died in February 2007 at the age of 74.
In February 2003 a television appeal for new information was made by Detective Chief Superintendent Max McLean of West Yorkshire Police on the BBC Crimewatch programme, publicly announcing the existence of a DNA profile of the killer for the first time, but no new leads were forthcoming.
On 5 November 2006, it was announced that a 53-year-old man had been arrested in connection with the murder of Lesley Molseed that had taken place in 1975. DNA evidence was alleged to have shown a "direct hit" with a sample found at the scene of the murder. Ronald Castree (born 18 October 1953 in Littleborough, Lancashire), a comic bookshop dealer, of Shaw and Crompton, Greater Manchester, was charged with the murder of Molseed and made his first court appearance on 7 November 2006 where he was remanded in custody. At a court hearing on 19 April 2007, Castree pleaded not guilty. On 23 April 2007 he was refused bail.
Castree's trial began at Bradford Crown Court on 22 October 2007. He was found guilty on 12 November 2007 and jailed for life, with a recommendation to serve a minimum of 30 years, which is expected to keep him in prison until the age of 83.
A DNA sample from Castree, taken on 1 October 2005 when he was arrested but not charged in connection with another sex attack, was a direct match with a semen sample found on Molseed's underwear, although Castree was not charged with this offence as it was later dropped. During the trial a scientist told a jury how DNA taken from the underwear of Molseed were linked to the man accused of her murder. Dr. Gemma Escott explained to Bradford Crown Court the chances of the semen samples belonging to anyone other than the defendant were one in a billion.
Two weeks before Castree killed Molseed, his wife had given birth to a son. Castree was not the baby's biological father; his wife had been involved in an affair. On 3 October 1975 Castree's wife went back into hospital with deep vein thrombosis, leaving Castree home alone on the day of the murder. She remained there for the following week. The birth of the illegitimate child may have been a trigger for Castree's murder of Molseed. Castree and his wife had two more children together, but the couple split up in 1996 and divorced a year later.
Originally from the Turf Hill estate of Rochdale, Castree lived in nearby Shaw and Crompton and was a taxi driver for many years. He was unpopular with his neighbours, who said he had a very nasty temper. His former wife said "he was foul with his mouth, and foul with his fists".
As revealed in the ITV television documentary Real Crime: The 30 Year Secret, Castree was convicted in 1976 of gross indecency and indecent assault against a nine-year-old girl in Rochdale. He was fined £25 (equivalent to £165 in 2016).
The Met Police is to hold an "urgent" review of a rape case after being accused of failing to disclose vital evidence.
Liam Allan, 22, was charged with 12 counts of rape and sexual assault but his trial collapsed after police were ordered to hand over phone records.
The BBC's Legal Correspondent Clive Coleman gives his analysis on the issues surrounding the case.
So what's new about this? Ever since the beginning of time, the police and prosecutors have withheld and/or doctored evidence that is crucial to the defence of the accused. Many people have suffered psychological torture lasting years, because of this. It's called a 'fit up', usually executed by the police and CPS who will stop at nothing to get a conviction. One ex-police officer told me one time that he frequently lied on the stand in court, in order to secure a conviction. This is particularly close to home. I don't know how these people sleep at night, they must have not even the slightest trace of compassion or humanity in them. This story high lights just two incidences, but there are many. A pity the police couldn't have been as zealous in Rotherham and Rochdale when incontrovertible evidence was put before them upon which they did not act.
In a case that I was present at, the judge announced to the court: "I disagree with the verdict; this has been a witch-hunt from start to finish by the police and Crown Prosecution Service, who between them, decided that because so much time and money has been spent on this case, we will HAVE to charge him with something."
I would strongly advise people to think carefully and consider all options before engaging a lawyer. A Barrister has only one objective in his sights, and it isn't your acquittal, it's his fee that he gets win or lose. If you are capable of D-I-Y-ing, do it! What is a barrister? He's just a middleman. You tell him what happened then he tells the court. As long as you are telling the truth, all you need to do is tell the court yourself. You don't need a flash barrister to polish it up.
If you end up in the dock of a Crown Court, you are not on anything that even resembles a level playing field. It's just little old you versus the Crown. The Crown has unlimited funding and access to professional advice and expertise. You have nothing and nobody. Nobody is in your corner, you are there all alone and if you're new to this, you'll be scared, terrified in fact. Your defence barrister doesn't care about you, he just cares about his fee. I was chatting with two lawyers one time. They told me that at least 95% of their clients are guilty. "We just have to be good actors in court," said one of them.
Wonderful Technology - 24th November 17
Isn't modern technology marvellous? I'm not so sure. I think it's to blame for slowing the world down and wasting time. If you're a young person, you won't have a clue what I'm getting at, will you? That's because you've never known life before call centres and pay by phone car parking. You've never known instant contact with humans on the phone.
Pay by phone parking, a system devised to save having to pay the wages of cash collectors from parking meters. This is how it works. In the old days, you would drive around central London, find a parking space, get out of the car, place a coin in a meter and you're done, on your way to your destination.
Nowadays, you find the parking space, get out of the car, note the phone number on a sign, dial the number, give the description (make, model and colour and registration number) of your car. That done, then comes your credit card - type in the 16 digit card number, expiry date, security code. Then the computer tells you that something isn't recognised, so you have to start all over. You feel like hitting the first person who walks by.
You want to report your washing machine has broken down. In days gone by, you'd phone your local Curry's or Comet, the phone will be answered by a real person fairly quickly. You report the fault of your machine and within a few hours, an engineer comes round to fix it.
These days, you phone a call centre. A computer tells you how valuable your call is, then it recites several options that you have to select from with a button push on your phone. After a wait, you will be told 'all of our operators are busy, but you're the 9th in the queue'. You'll then be listening to Mozart, or Greensleeves or some other boring music. Eventually, you speak to a human being who explains that the engineer is in your area on Wednesdays, and it's your responsibility to be home on that day.
You go into a cafe for a cup of tea. In the old days, you'd offer the payment, and two buttons on the cash till are pressed, and the job is done. Now, it takes 45 pushes on a Smart screen (typing in a log on, personal password etc) in order to just pay for a cup of tea.
Is technology really a time saver? No wonder I'm a retro fan.
This could be defined as a breach of our civil liberties in that we do not have a choice when it comes to financing the £2.2 million salary of this man. Some people in the United States will read this and they will be aghast at its message.
This is Christ Evans who earns £2.2 million per annum for simply playing records and speaking into a microphone, in other words, he's a disc jockey, an expression that radio presenters despise because it undermines their glory. And rich people like that woman who complained about Grenfell Tower victims moving into her wealthy apartment block last week, perpetually claim that they work hard for what they have. I've been a radio disc jockey and the job is so easy, I worked at it for free.
I don't have a say in this, neither does anyone else who finances this salary. WE ARE REQUIRED BY LAW TO PAY THIS MAN'S SALARY AND WE CAN BE ARRESTED IF WE ARE CAUGHT USING A TELEVISION OR VIEWING TV PROGRAMMES ON LINE WITHOUT A TV LICENCE. We have no say as to how this money is distributed once it's been wrenched out of our pockets. Someone else decides that I must pay towards this salary because if I don't, this valuable commodity (AKA Chris Evans) will leave the BBC and go to a competitor.
It gets better: I never use what this guy produces. I never listen to his radio show and I never watch anything he does on TV. This is an indictment of our freedom to choose. Normally, when purchasing a service, we can examine the service and make the choice as to whether or not to purchase. Furthermore, I would add that if I never use BBC services, but only listen to commercial radio and only watch commercial TV, I still have to pay for Chris Evans' salary.
What did I tell you, Americans reading this will be shocked. Americans choose whether or not to subscribe to PBS (Public Broadcasting Service), it's not forced onto them even if they don't use it.
Acid Attack Epidemic in London - 17 July 2017
Some cops think 'stop and search' will solve the problem, yet some cops think it won't. I must agree if there is a control on the availability of acid, it'll be used less, but the low lifes will switch to drain cleaners, the likes of which I saw on the shelves in Tesco this week.
They talk a lot about how this offence can come under the GBH law and punishment, stating that they CAN (not will) get life imprisonment. Give me a break, can you imagine anybody getting a life sentence for hurting another human being? NO! IT COSTS TOO MUCH TO KEEP SOMEONE IN PRISON FOR LIFE. They'd be more likely to get a stiff sentence if they defraud the Government out of some money, but not for assault. Come on! Human life is worthless as are we, the citizens.
5 Year old girl fined for selling lemonade. You couldn't make
This was my 'You Couldn't Make It Up' topic of last night, now it's all over the news. It's so good and comforting to know that we are being protected against these ruthless criminals, AKA little girls. What we have in London is a huge increase in knife crime, acid attacks, street robberies, moped thieving, but the most dangerous of all is a little girl who is selling lemonade to passers by for 50p per glass. This cannot go on and Tower Hamlets Council is protecting us from this manic individual.
Bottom line---- SHAME ON TOWER HAMLETS COUNCIL. They have done untold damage to the moral of this lovely little lass who was trying out an idea she had thought of herself. After this, she cried, believing that she was bad and had done something terrible. A RIGHT SICKENER!!!
A five-year-old girl was fined £150 by a council for selling 50p cups of lemonade to festival goers.
The girl's father Andre Spicer said his daughter had set up the stall in Mile End, east London, while thousands of music fans were on their way to the Lovebox Festival at the weekend.
Mr Spicer said his daughter burst into tears and told him "I've done a bad thing".
Tower Hamlets Council has since cancelled the fine and apologised.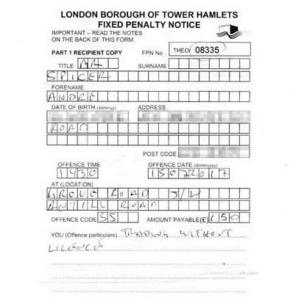 Mr Spicer said his daughter loved the idea of setting up a stall near their home.
"She just wanted to put a smile on people's faces. She was really proud of herself," he said.
"But after a small time trading, four enforcement officers walked over from the other side of the road.
"I was quite shocked. I thought that they would just tell us to pack up and go home.
Now, the majority of voters in London's mayoralty election last year showed that they lack the ability to see how Sadiq Khan is undermining their intelligence. Perhaps they do lack the intelligence to see through his lying and scheming, but some of us do not.
What does he have on the table? He's going to charge the owners/drivers of Diesel powered vehicles an extra premium for driving their vehicles in the capital. Why? It's because these vehicles are causing the deaths of several thousand residents of London each year. How many thousands is unclear, I heard four thousand, then six, and more recently, nine.
To start this rant, let us take the figure of several (albeit uncertain how many) thousands of people whose death is caused by polluting vehicles. Where do the figures come from? What I mean is, how do Khan and his sympathisers know whose death is caused by traffic? Are there any death certificates that state: 'Cause of death, traffic pollution'?
Why all of a sudden are we blaming Diesel vehicles? I don't own one, but had I recently bought a diesel Jaguar or a Volvo, I wouldn't be too impressed with Khan's proposed scrappage scheme wherein he's offering something like 2 thousand pounds for owners to scrap their cars and go and buy a petrol one.
Why are we being told that Diesel vehicles are the biggest polluters now, when a few years ago, we were encouraged to buy them because they polluted less than petrol vehicles did? Of course, I neither trust nor believe all I'm told, therefore I don't believe this latest report, or bunch of almost daily reports. What could be the reason for this 180-degree turnaround? Could it be that a few years ago, there was more profit to be made from the sale of Diesel fuel, but now Petrol commands the higher fiscal return?
How can Khan and his clean air cronies get the message of pollution over to the public? The people are going to say that the air looks clean, unlike in the early 1950s when one couldn't see a hand in front of one's face. "Ah, yes, I've got it, we'll tell them that it's Nitrous Oxide, a gas that can't be seen, that'll do it." Well, it might and to some extent, it will because there is a large section of the populous that believes all that it's told.
The whole concept is a cash cow - a big money spinner for
TFL
and whoever
drains
its resources. How do I know this? This applies to all punitive taxation measures. They do NOT achieve what they are supposed to achieve. All they do is generate extra income for councils and other authorities. Take for example the congestion charge.
The congestion charge has done nothing to reduce congestion in Central London, although the very blinkered Ken Livingstone, who created it, will argue otherwise. What these punitive taxes do is they force people to pay for the privilege of driving their vehicles in a certain area. They won't stop Diesel vehicles entering London. If someone needs to be there and the vehicle is a Diesel powered one, that person will go there regardless of the cost. People have businesses to run and most businesses do use Diesel vehicles. Taxis, Fire Tenders, Ambulances, trucks and vans all use Diesel engines.
If Khan really wanted to cut traffic pollution and he really believed Diesel engines were the root cause, he would ban the use of them entirely. A vehicle whose owner is paying a Toxin Tax will be just as polluting as one that enters the Capital at no cost. The charge doesn't reduce the pollution coming from the exhaust pipe. So, a total ban on them is the only answer. Of course, this will be a springboard to the next level because let us not forget, Khan is craving for the glory that would go with his aspired claim to have cleaned up the greatest city on earth. Would it then be the greatest city on earth? The next level being referred to here is a total ban on all motorized vehicles. Everybody would use the Underground trains (which are currently working flat out to carry the maximum they are capable of carrying), cycles or their own feet. What a ghost town London would be.
There will be a backlash of course. There would be mass unemployment and loss of revenues that would hit unprecedented levels. Imagine the number of people who earn their living from the existence and use of vehicles. The list is endless, but I'll go for it: Petrol station staff, Petrol refiners, raw oil importers, petrol pump maintenance staff, delivery tanker drivers, motor mechanics, garage reception staff, car salespeople, tyre changers, tyre suppliers, spare parts manufacturers, insurance company staff, road maintenance staff, gritters in adverse weather conditions and traffic reporters on radio stations. As I said, the list is endless. I've probably only covered a small part of the total. Add to this the loss of Vehicle Excise Duty, fuel tax and VAT. The treasury would be in a crisis like never before. The economy of the nation would be crippled like never before. The Government would be begging us to return to car usage, explaining that there had been a misunderstanding and that the air isn't polluted at all. The deaths would have happened anyway.
London Mayor proposes emissions charge, scrappage scheme, and larger Ultra Low Emission Zone to improve air quality.
12 July 2016
Vehicles registered prior to 2005 in the firing line.
London Mayor proposes emissions charge, scrappage scheme, and larger Ultra Low Emission Zone to improve air quality.
Vehicles registered prior to 2005 in the firing line.
I was watching Sadiq Khan on the TV last week. He was visiting a small boy in Great Ormond Street Hospital; a boy who suffers from a respiratory problem and has to use a nebuliser. Khan explained that almost 10,000 Londoners are dying every year because of the air pollution in the capital. With what he followed it with, I don't think my intelligence has ever been so insulted since I was born.
He says he's going to make London the cleanest air city in the world, and this is how he's going to do it. He's going to enforce a further charge on the use of all cars made before 2005. So, when he's done that, just watch all the smog and pollution rise up and vanish from our capital city. You'll be able to stand on Euston Road and Oxford Street and take in deep breaths, just for the pleasure of it. Do you think so?
Now to the reality. The average car travels only a small number of miles each day, then it's usually standing in a car park for most of the day, then it travels a few miles back to its home base.
A bus and/or a taxi on the other hand, is driven at relatively low speeds in London's heavy traffic, ALL day and often ALL night. Its engine is NEVER EVER switched off.
Here's another one. Firstly we had roads that all vehicles could share equally. Then came bus only lanes, so all other vehicles were pushed into a smaller road space, which increased congestion and consequently, more idling engines belching out more pollution.
The next phase followed. Suddenly, London's Roads are sporting Cycle Super Highways which are painted blue. Only cycles are allowed to use them, so other vehicles are cramped into an even more confined space, thereby creating more congestion and more pollution.
Sadiq Khan expects us to believe that he is working on the problem. Oh, if only the Tories had had a better opponent that Zac Goldsmith for the mayoral election, we might have had somebody sensible running London.
A final gripe: Doesn't Khan realise that most people who run older cars do so because they can't afford to buy and run newer ones. If Khan gets his way, people will not pay the extra charge, they will be forced off the roads forever. Only the better off will then be able to drive in London. Is this the Labour way?
Until today, I have refrained from expressing my views on the referendum or stating how I voted although I have shared the views of many others on my Facebook Timeline. I'll say how I voted now. I voted to leave, not because of my educational attainment and/or qualifications (or lack thereof), not because of my age and certainly not because of my fiscal status or the rural area in which I live, all of which the article below this would suggest such a vote is attributed to.
The main engine that spawned my vote was the disgraceful behaviour of the remain campaigners such as David Cameron whose constant distribution of threats seemed to cement his view that the most likely leave voters are inherently stupid and would absorb his fearful rhetoric. Could this, risk of that, might the other, could could could. I just became so sick of hearing the word, 'could' which must be one of the most meaningless words in the English language.
Worst of all though was the engagement of Barak Obama who was clearly reciting from a pre-written script which explained that if we vote leave, the UK will have to take its place at the end of a long queue if we are to continue to do business with the USA.
As I read through the long winded blog (below) from the vice chancellor of Hallam University in Sheffield, I detect a slight suggestion of a doubt that there had ever been a UK unattached to Europe. I also feel that it insults all who do not share his views, howsoever guided (or otherwise).
My final view is that I don't think we shall be plunged into a nuclear winter or abyss of misery, hardship and despair, as some of the losing side suggests.
I had hoped to bury the referendum by now, but rancid offsprings of it keep coming my way. I'll share this, but I don't expect many people will tolerate the monotony of it though. On the actual blog page, I added the following comment which is still awaiting moderation. It'll probably be deleted, but I don't care:
" Is this another of those, "I told you so" blogs? This won't win any points for its author. It's pure conjecture. When I voted, I didn't leave my date of birth at the booth, a list of my qualifications attained at school nor my fiscal status. In essence, it says: "If you're clever, you voted as I did, if you're stupid, you voted the other way." Shame on whoever composed this personal rhetoric."